Parachute Games
OK, this book isn't about juggling or what most people think of as standard forms of object manipulation.
&nbsp
It is about a different style of object manipulation. Think of all the fun you can have with a parachute and a group of players.
&nbsp
Truth be told, I'm really proud of this book. IMHO, if you would like to get some ideas on how to play with a parachute, it's the best resource out there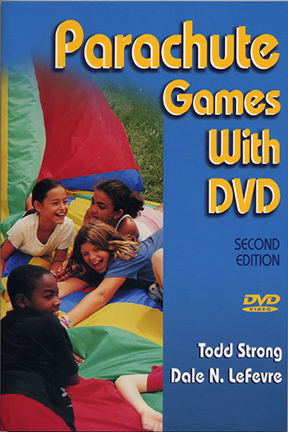 Parachute Games with DVD has 59 games you can play with a parachute. Well, each game also includes at least one variation, so there are over 100 games. 145 pages, $19.95.

&nbsp

The DVD, included with every book, shows kids playing 28 of the games, which gives you a sense of how much fun the games are, and how to share them with your players.

&nbsp

Take advantage of the current exchange rate.

&nbsp

I will be happy to autograph the book. Please let me know if it is for you, or a gift for someone else (and that person's name). On the "Review Your Payment" page there is a link that says "Autograph???". Please click on this link and let me know to whom I should autograph the book. Thanks.

&nbsp
Ship to:
Shipping charge
U.S.A.

Total: $21.78

Airmail

two to three business days

$1.83

Canada
Total: $22.15
Airmail

four to seven business days

$2.20

Europe
Total: $25.85
Airmail

four to seven business days

$5.90

The Rest of the World

Oceania, Asia, Africa, South America

Total: $26.50

Airmail

four to seven business days

$6.55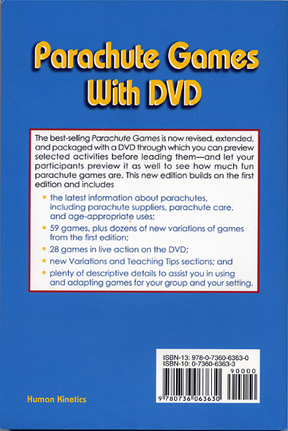 back cover (text below)
&nbsp
The best-selling Parachute Games is now revised, extended,
and packaged with a DVD through which you can preview
selected activities before leading them-and let your
participants preview it as well to see how much fun
parachute games are. This new edition builds on the first
edition and includes
&nbsp
the latest information about parachutes,

including parachute suppliers, parachute care,

and age-appropriate uses;

&nbsp
59 games, plus dozens of new variations of games

from the first edition;

&nbsp
28 games in live action on the DVD;

&nbsp

new Variations and Teaching Tips sections; and

&nbsp

plenty of descriptive details to assist you in using

and adapting games for your group and your setting.