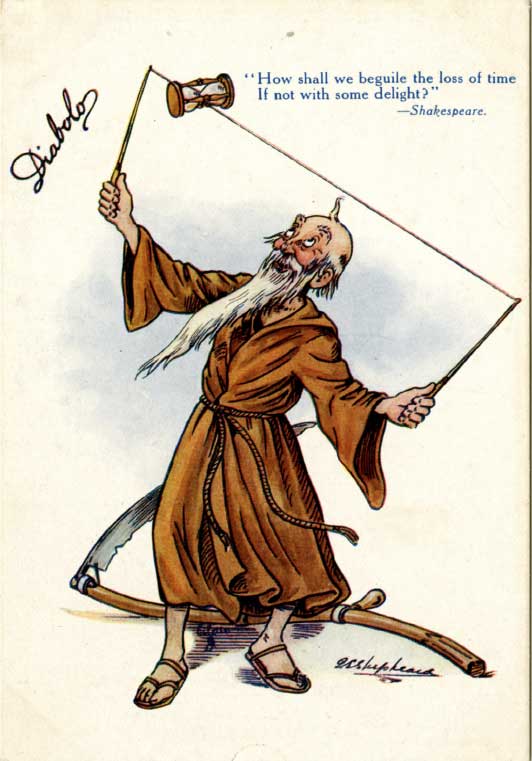 Above is a scanned image of the diabolo postcard from 1908 that has been used in the 2012 card.
&nbsp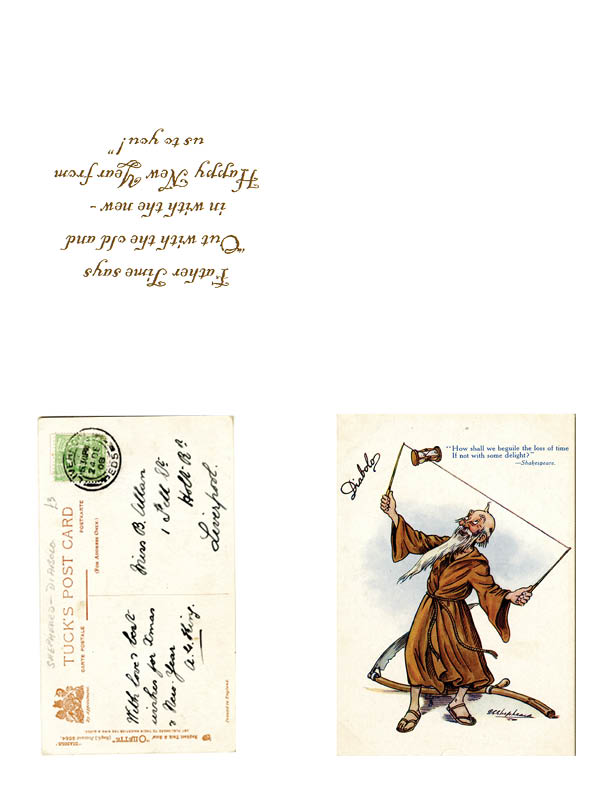 Right-click to download printable, full-size version of card.
&nbsp
Folding the printed version once in each direction should create a traditional card. ite.
2012 Annual Letter
&nbsp
Hmm, had to switch to insulated gloves about fifteen minutes into my weekly bicycle trek to the land of freedom. Must mean it s time for another annual, end-of-the-year, denomination-neutral holiday letter.
&nbsp
The biggest lesson I learned in 2012 was not to cough or appear in any way sick or injured in front of a classroom of recent First Aid/CPR graduates. Some of the students perked up and came perilously close to putting away their cell phones and springing into action with chest compressions after a couple of ill-timed hacks or overly strenuous throat clearings on my part. I discovered later that even long pauses caused several students to momentarily stop texting and begin surreptitiously googling for signs of aphasia or stroke. In retrospect, I m not sure if they were reviewing first-aid tips or searching for advanced strategies on how to cull the rolls of the instructor herd. Fortunately, I made it through the year with all my ribs intact and no false emergency-room visits. On the other hand, I was asked several times by Good Samaritans in the class if I would like to sign an organ-donor card.
&nbsp
Actually, my health is pretty good, although familiar hills and stairs seem to be lengthening and steepening. Had to acknowledge the inevitable sometime this past year and switch from 1.25 to 1.5 reading glasses. Still (mostly) keeping up with the indoor quest of rowing around the world. Tacked on another couple of million meters to the journey, not quite as much as I had initially planned, and still enough to elicit winces and groans when sore muscles complain about strenuous activities such as standing up or walking.
&nbsp
Well, there was one small bout with strep throat at the beginning of summer that was mildly uncomfortable and would have been unremarkable, except for a small epiphany. To protect Chris from getting any germs and to let her sleep through the night I moved to the bed in the guestroom for the duration of the affliction. The routine became a soothing shower, a gargle, and then quickly to bed. It took a couple of nights before I realized that my fever and sweats weren t that extreme. Rather, the guest bed is next to the wall with the pipe that delivers hot water to the shower. I was trying to sleep with my head next to the hottest spot in the room. A slight change in geography, and the malady became much less severe.
&nbsp
Is the definition of bigotry large enough to include the concept of admiring and liking people from other racial and ethnic groups? Approximately one-half of the ECCE and CYC students are immigrants to Canada. As a fellow newcomer, I empathize with their struggles of: 1) staying warm in a new (colder) climate, 2) trying to figure out the uniquely Canadian ways of doing things, and 3) problems with the language. I m particularly sensitive to the latter as memories of the frustrations and minor embarrassments of learning survival French and German as an adult living in Europe are still strong. It was hard enough as an instructor over there, when students had to accommodate to me I can only imagine the stress of trying to learn an academic subject in a second language.
&nbsp
It s not just the students who have made me biased towards folks from other countries, though. I m also thankful, appreciative, and sometimes even envious of exotic strangers. To be honest, encounters with people from this group usually consist of brief interactions with the wait staff a t specialty restaurants, invariably ending with delicious meals I would not be able to prepare at home. While sociologists may harbor reservations, the phrase reverse culinary prejudice could be a good description for this predilection towards foreigners.
&nbsp
Still working, still busy. The administration at Surrey College keeps asking me to teach new (at least for me) courses. While time-consuming, these opportunities are too much fun, so I say yes . At one point, I thought 2012 would be the year to finish another book of games. Instead, most weeks were spent trying to stay one chapter ahead in a series of topics ranging from epigenetics (I didn t know at first, either.), cognitive behavioral therapy, and the techniques and ethics of counseling skills.
&nbsp
Perhaps it s no surprise that the added breadth gained from learning about and teaching these new topics enhances the other courses when it s time to teach them again. Don t worry, though, this isn t going to my head. Any gains in enhanced academic self-esteem were reality-checked another year without winning a MacArthur. Don t even know if I made the short list.
&nbsp
Beware of what you wish for. For several years I have been pestering Chris about cooking a turducken for the holidays. An e. coli scare around Canadian Thanksgiving put the kibosh on people buying any kind of beef products. While this did not directly affect our family, the indirect repercussions were fantastic. A run on turkeys left a sole turducken as the only choice at the supermarket. Chris didn t take kindly to the idea of a trial run, so we tried preparing it on the day without a rehearsal. Bad move.
&nbsp
A popular idea is that it takes ten-thousand hours to become really good at something. Doesn t matter what, log the time and you will be world class. Turns out it doesn t take that many turduckens to reach the magic number. We wrestled the concoction into the oven at around eleven in the morning. Guests were expected at six in the evening. We got nervous around three when the turducken was still a pasty white, and I was sent out to procure some back-up vittles. Came home with two rotisserie chickens. Our guests were polite, hiding their disappointment well. Chickens with side dishes aren t that bad a Thanksgiving tradition.
&nbsp
The turducken was finally cooked through around eleven that evening. Left-over chicken and eleven pounds of turducken (for a couple where one of the partners doesn t eat meat) meant friends were visiting for leftovers the following week. Food stalls are a big craze in Vancouver this year my turducken stand would have been a great success too, if the bureaucracy didn t move too slowly to get a permit approved before the beast was (finally) consumed.
&nbsp
Sadly, lost a couple of friends to cancer this year. Robert Nelson, the Butterfly Man, is one of the inspirations for these letters. Before the Internet, we would entertain each other by writing and mailing letters about our adventures around the world. Guess I ll have to affix s ome extra postage to make sure he gets his copy. A tip of the hat to you and Luke, Robert. To end on a mundane note: Please delete post office box 204 from your address book. I still receive mail at the Point Roberts street address, though. The US telephone has also been d isconnected. Best way to stay in touch is through e-mail.
&nbsp
With best wishes for 2013 may all your birds be cooked through!
&nbsp &nbsp
copyright 2012 by Todd Strong